BRITISH AIRWAYS

As a Preferred Partner of British Airways, Caribtours is able to pass on the very best in offers and booking flexibility. The airline operates the most comprehensive network of flights from Gatwick and Heathrow with non-stop services to:
Abu Dhabi; Antigua; Barbados; Dominican Republic (Punta Cana); Dubai; Jamaica (Kingston); Maldives;  Mauritius; Mexico (Cancún & Mexico City); Saint Lucia and The Bahamas
And direct flights (one stop) to:
Grand Cayman; Grenada;  Muscat; Sri Lanka; St Kitts; Tobago; Trinidad and Turks & Caicos
Mobile and Early Check-in
For your convenience British Airways offers two easy ways to check in and avoid the queues at the airport. Mobile check-in provides the option to check in on the move, simply download the ba2go app on your mobile, check in and then choose to either pick up your boarding card at the airport or print it when you have access to a printer later. As an alternative, an early check-in service is off ered at Gatwick between 4pm - 10pm the day before departure, allowing you to avoid the early morning queues.
First
First is available on flights to Dubai, Abu Dhabi and Muscat, and the First treatment begins the moment you enter the calm sanctuary of the Galleries First Lounge. On board, the discreet crew welcomes you into elegant and refi ned surroundings and the private suites provide the comfort and privacy you desire. Drift off to sleep in a fully fl at bed, enjoy an exquisite à la carte meal or be entertained with a state-of-the-art in-fl ight system whilst sipping a glass of Champagne or a decadent hot chocolate.
Upgrade from €2,245 per person each way.
Club World
Club World off ers dedicated check-in desks and access to the lounge. The fully flat beds, exceptional personal space, privacy and comfort, combined with a delicious four course meal, fine wine and extensive entertainment system, make Club World a fabulous way to fly.
Upgrade from €405 per person each way.
World Traveller Plus
World Traveller Plus offers a spacious, quieter economy cabin with wider seats, greater recline and 7" of extra legroom. All seats have a personal screen showcasing the latest films, TV programmes, games, music and audio books.
Upgrade from €305 per person each way.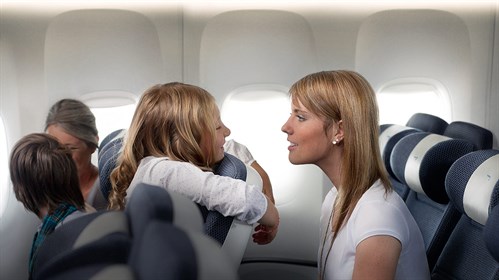 World Traveller
World Traveller is the comfortable economy cabin off ering seat-back entertainment, a three course meal and complimentary bar. Children will appreciate the Skyflyer packs and all passengers will enjoy the warm and attentive British Airways service.
VIRGIN ATLANTIC



We work closely with our friends at Virgin Atlantic to bring our clients the very best available deals and offers. Virgin Atlantic operates from Gatwick to Barbados, Antigua, Saint Lucia, Grenada, Cuba, Jamaica and Mexico, and regular flights from Dublin, Cork and Shannon are available to connect with Virgin's long haul services.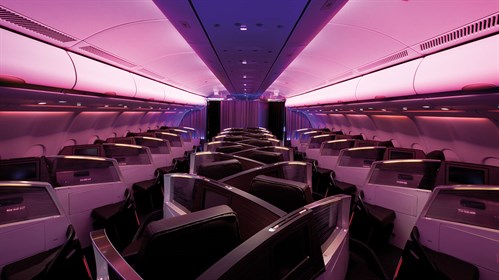 Upper Class
All Upper Class guests will enjoy exclusive use of the Virgin Atlantic Clubhouse, a luxurious mix of cocktail bar, boutique hotel and private members' club. Once on board, stretch your legs at the onboard bar. Then, when it's time to sleep, lie back on one of the longest, most comfortable fully fl at beds in business class. With exceptional privacy, comfort and service, you'll arrive refreshed and ready for whatever the day has in store.
Upgrade from €675 per person one way.
Premium Economy
Virgin Atlantic Premium Economy makes flying even more enjoyable. Enjoy dedicated check-in, priority boarding, and a pre-flight glass of bubbly. There's more space to relax, as your purple leather seat is one of the biggest in its class. It's up to 21" wide, with a 38" seat pitch. It also has a footrest, a headrest and inseat laptop power. For dinner, choose from three delicious meals, all served on china, with stainless steel cutlery and linen. Once you've landed, you're one of the first off the aircraft, and so are your bags.
Upgrade from £275 per person one way.

Economy Class
Virgin Atlantic Economy puts the fun back into fl ying. It's an easy journey from start to fi nish, and all for a great price. Your comfortable seat has a 31" seat pitch and an adjustable headrest and armrest. Need more space? You can easily upgrade to an extra legroom or exit row seat. There's a choice of three tasty meals, including a vegetarian option. On day fl ights, celebrate your journey with a speciality cocktail. At night, enjoy a cup of hot chocolate to help you drift off. Don't feel like sleep? Then enjoy the selection of over 300 hours of on demand entertainment.
EMIRATES

Emirates offers regular direct services to Dubai from Dublin, with onward connections to an extensive network of destinations including Oman, Maldives, Mauritius, Seychelles and Sri Lanka.

Fly in comfort and style with industry-leading onboard facilities, including 'ice', Emirates' award-winning information, communication and entertainment system, with up to 1,500 channels on demand, plus easy connection to phone, SMS and emails from every seat.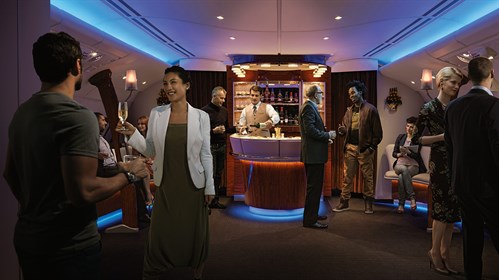 Emirates A380
Travel on the Emirates A380 and experience the most luxurious travel experience available. First and Business class passengers can enjoy a spacious on board lounge, serving a selection of canapés, cocktails and complimentary drinks, and the chance to refresh with an on board shower. First Class passengers are welcomed into a Private Suite with a personal mini bar and sliding doors for total privacy, and the A380's First and Business guests can enjoy a fully flat bed and multi-course gourmet meals. Business Class passengers benefit from direct aisle access and an in-seat mini bar. The Emirates A380 flies from both Heathrow and Manchester to Dubai daily, and onwards to 20 destinations, including Mauritius. If you are flying elsewhere on the Emirates network, you can still expect the following fabulous flight cabins and services.
First Class
Travel to and from the airport in style with a complimentary chauffeur-driven service (mileage restrictions apply) and relax at the airport in the Emirates Lounge and Emirates First Class Lounge in Dubai. On board, expect elegant surroundings, superior personal comfort and gourmet menus created by master chefs.
Upgrade from £3,345 per person each way.

Business Class
The ideal environment for relaxation, thanks to award-winning cuisine, and on selected aircraft, flat bed seats. Enjoy a complimentary chauffeur-driven service to/from the airport (mileage restrictions apply) and access to the Emirates Lounge.
Upgrade from €1095 per person each way.

Economy Class
Thoughtfully designed to provide you with more room, improved comfort and better service, with superb regionally inspired meals, complimentary beverages and a seat pitch of up to 34 inches.