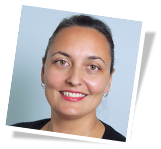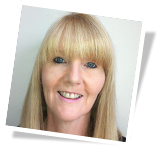 Fiona, our Private Sales Manager and Mandy, our Senior Travel Adviser both love the Maldives and want to tell us about their amazing time there, and why they're dreaming about returning one day…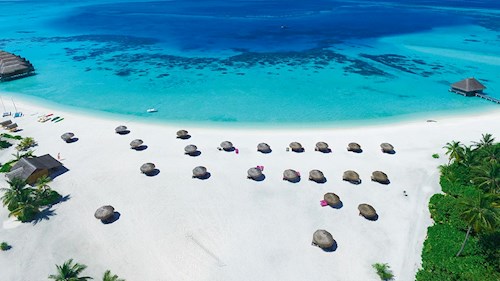 Upon arriving in Malé, the capital of the Maldives, we loved the hustle and bustle but it's safe to say that it had changed a lot in the last 20 years since our last visit, when it was much smaller and so quiet! Each hotel offers its own unique atmosphere and we truly loved every minute of our idyllic escape.
One of the highlights from the offset were the individual Courtesy Rooms most hotels have for you at Malé airport, that you can use to wait for your onward transfer to each island, it makes some of the waiting more comfortable and you can relax before you set off.
Transferring to each island either by seaplane or speedboat is an adventure and both great ways to arrive at your chosen island, you could even split a stay by staying at one hotel that has a seaplane transfer and then one that offers a speedboat transfer, so you get to experience both options.
Our first impressions of LUX* South Ari Atoll were fantastic, it seemed to be the epitome of barefoot island luxury; LUX* South Ari Atoll is the larger Maldivian island out of the two properties here in the Maldives with a lovely contemporary twist.

What made our stay here so special were all the little additional LUX* touches, such as a message in a bottle they hide on the island for the guests to seek and find, the Magic Tree of Wishes, Phone Home telephone boxes that are dotted around the island and many more added luxuries to discover while you are there!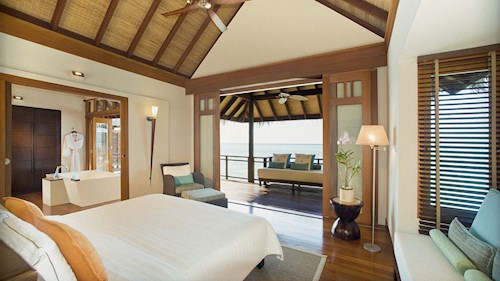 The rooms were modern in style, they contained everything you required to have a comfortable stay and perched directly on the beach; you literally woke up and rolled out of bed onto the beach, talk about paradise! Breakfast at the amazing over-water restaurant, East Market, was a beautiful start to the day, with its vast selection of breakfast options.
This is one resort that has something for everyone: families and multi-generation families, couples as well as groups of friends. They offer a wealth of activities including the PLAY kids' club (3-11 yrs), Studio 17 teens' club (12-17 yrs), windsurfing, wakeboarding, hoverboarding and flyboarding!

The more adventurous types can even take the plunge and do a PADI diving course. We opted for the more gentile option of a leisurely bike ride around the island to take in the beauty.

TAKE ME THERE>
We then travelled over to Huvafen Fushi, which is a smaller, stylish island that provides a more intimate vibe, making it the perfect destination for couples.

The resort simply exudes romance; from the wonderful under-water spa offering couples' treatments, to the unique, underground wine cellar providing an intimate dining experience. We also particularly enjoyed the natural ambience of the fantastic outdoor cinema!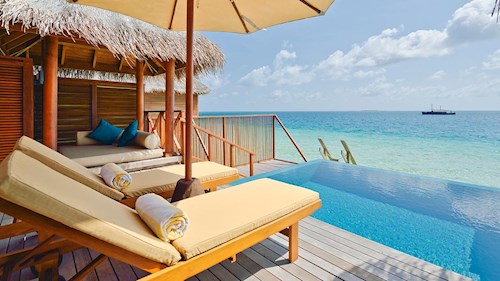 The rooms were fabulous, all with their very own private pool. Our rooms were situated on the beach and had partially open bathrooms for that added touch of barefoot luxury, with its own pool in the bathroom!

We enjoyed the spectacular sea views that accompanied our mealtimes; lunch at Forno sat under the trees, eating and sharing delicious Italian style cuisine was a particularly memorable experience.

TAKE ME THERE>
Next on our Maldivian adventure, we arrived at Kanuhura, a larger island than most with lots at wonderful white-sand beaches, which were pure bliss to sink our toes into and walk for miles.
One of the delightful features at this resort is another island called Jehunuhura, which you can access by boat. It is part of the resort used for just relaxing and finding that quiet space to read a good book and make the most of total peace. We recommend a light lunch at Drift restaurant on the beach, it is truly stunning.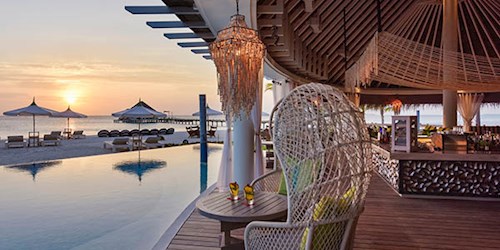 Kanuhura's unique selling points were the eclectic mix of restaurants available – eight in total – serving everything from Mediterranean and Asian fusion dishes, to Italian and local and international cuisine, as well as the option for personalised gourmet menus at the Chef's Herb Garden. It's also an ideal resort for families, boasting a great Kids' Club and an abundance of watersports.
We stayed in one of the luxurious two-bedroom beach bungalows, complete with private pool. There was even the option of having a third room as a satellite from the main room, which would be a perfect addition for families. We enjoyed getting out and about on bikes to explore the beautiful island further.

TAKE ME THERE>
Joali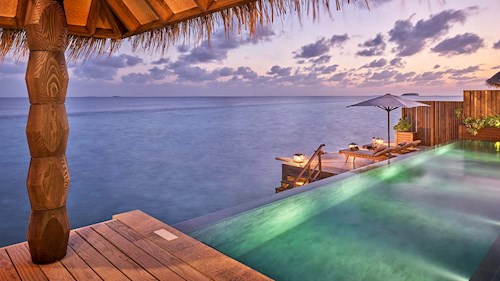 Joali was the icing on the cake of our amazing holiday; providing the 'wow' factor straight away as we pulled up to the stingray arrival jetty, we were met by our own "Jadugar" butler, he looked after us from start to the end of our stay, he even anticipated what we liked and wanted before we did, it was amazing!
Joali is another resort that offers something for everyone, from couples to multi-generation families; its a quieter island, so a wonderful place to spend some great quality time with each other.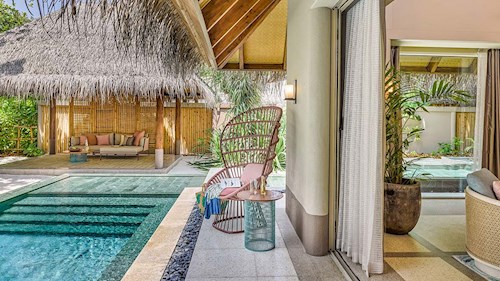 We loved the art work that is dotted all over the island, it was exciting to discover something new around every corner.
Everything here was just sensational, from the awe-inspiring views from our high-ceilinged, supremely spacious over-water villa (with a private infinity pool and stunning outdoor shower), to the delightful Joali spa treatments, all by ESPA in a beautiful, relaxing setting.
Each room has their own his and hers bikes allocated for the duration of your stay, for that added touch of romance and adventure.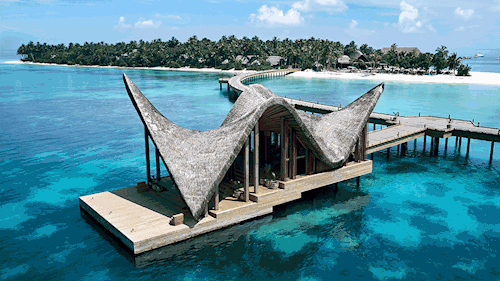 Dining at Joali was out of this world; we dined at the Japanese restaurant Saoke, which is set in an amazing building designed by Noriyoshi Muramatsu, perched on the water, it was simply sublime; we had the most amazing Japanese meal paired with sake for each course.

There is a private dining area for couples seeking a more intimate dining experience and also for those seeking Teppanyaki/Kotatsu seating options.
We dined outside one evening at Bellini's, with our feet in the sand experiencing Italian "nonna approved" fine dining dishes, they were delicious!
We were very sad to leave this little island of paradise.


If you'd like to find out more about the Maldives or to make a holiday enquiry, give us a call on 020 7751 0660 .