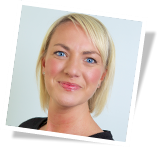 Karen, our Trade Sales Manager, enjoyed a trip to the picturesque Antigua last year, she fills us in on what she got up to.
We were lucky enough to be granted access to the exclusive Virgin Atlantic Clubhouse at London Gatwick which was a very luxurious start to our trip. The lounge was just stunning and we were really well looked after with a great choice of food and drink – there's even a spa area so you can treat yourself to a pampering massage before you jet off!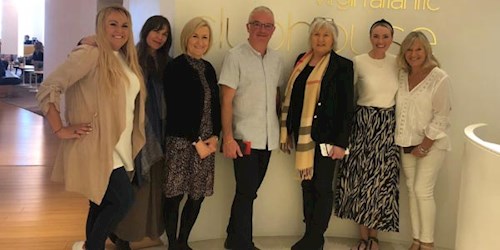 The group and I flew Premium Economy both ways, and I must say I was really impressed. The catering onboard was some of the best I have experienced (especially the welcome glass of fizz!) and the Cabin crew and aircraft were both great.
When we landed in Antigua, we were greeted by representatives from our ground agents, St. James Travel & Tours and handed a cold towel and fresh bottle of water to sip during the journey to Carlisle Bay.
The beach at Carlisle Bay was just stunning and I was extra glad I'd be able to soak up the views from my beautiful Beach Suite. These suites are perfect for families as they've got a separate twin bedroom for the kids and, if you're on the ground floor, you can step right out onto the sand.
The resort is actually split into two sections – one for adults and one for families, so even if you're travelling as a couple, you'll still be able to enjoy the adult-only aspect of the resort.
We dined at Indigo and the food was lovely; we had a tasting menu which included lots of delicious fresh fish and shellfish. We also had breakfast here the next day which was amazing and a great beachfront setting to start the day, with the relaxing sounds of crashing waves as you sip your coffee.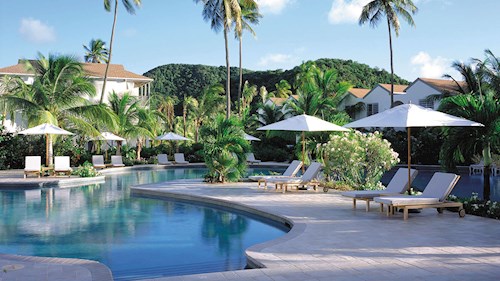 TAKE ME THERE>

Our next resort was the exceptional Jumby Bay, and all I can say is 'wow!' We were treated like royalty from start to finish and I didn't want to leave. Jumby Bay is set on its own 300-acre private island and really is a five-star deluxe resort; the rooms are so stunning and everything is of such a high standard.
We were allocated Pool Suites with a nice bottle of fizz on arrival. There was a generous amount of living space in the suites, and vaulted ceilings further enhanced the sense of space. My suite had a private garden with an outdoor rain shower and soaking tub, plus a private pool and beautiful sea views.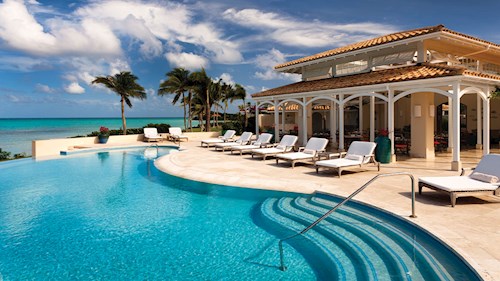 TAKE ME THERE>

In the afternoon, we went for a bike ride around the island which was great fun. A group of homeowners own Jumby Bay Island and they ensure the ecology is protected and sustainable, so it's easy to spot wildlife and appreciate the nurtured natural environment here.
On the beach, you're well looked after with homemade ice cream, smoothies and fresh fruit, and there are a seemingly unlimited amount of watersports to take part in, and you can even learn how to sail with a complimentary beginners' sailing clinic.
My favourite part of the stay was the renowned 'White Night' beach party; a fabulous gathering of guests and staff where everyone dresses in white, and enjoys a beach barbecue to the tunes of a live band and singer.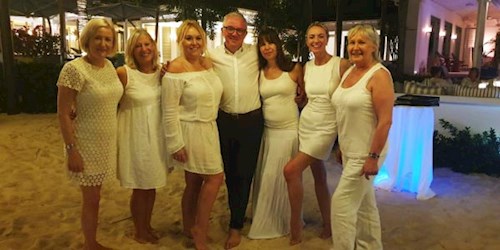 The next day we enjoyed a gorgeous lunch at Galley Bay. The hotel was looking really lovely, particularly the bedazzling beachfront Gaugain Cottages, which are newly refurbished and look fabulous.
Since my last visit, they have added little stations like "light bites" and a rum shack within the grounds which were charmingly quaint little touches.
The lunch here was so much fun, the staff were all so friendly and hospitable; the food was outstanding and truly some of the best we had while we were on the island.  
We then travelled to the beautiful Hammock Cove, which gave off a wonderfully contemporary vibe. All suites are spacious, all-inclusive and for adults only, with their own private plunge pools and a swinging chair, which is a fun addition. 
Positioned as the newest boutique hotel on the island, the resort boasts three pillars are gastronomy, personalized service and uninterrupted luxury.

The views here were stunning; perched adjacent to the majestic Devil's Bridge National Park, a UNESCO World Heritage Site, it's undoubtedly going to be dubbed the new "hotspot" in Antigua. 

We especially loved the Lighthouse Restaurant, which serves exquisite Caribbean fusion cuisine.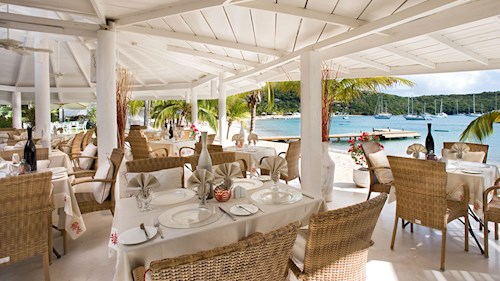 TAKE ME THERE>

Our trip concluded with two nights at The Inn at English Harbour, and it was a truly wonderful stay.
 
We all had sumptuous Deluxe Suites and were lucky enough to eat at both The Reef Restaurant and The Terrace.

The food at the Inn was simply out of this world; the staff were fantastic, delivering impeccable service. I spent an evening dining with the friendly general manager, Fabio Giorgi and his wife, sampling their delightful taster menu.

For those looking for some adventure on their holiday, I would highly recommend the Jeep Safari, followed by a swim at "Stingray City", perfect for active families seeking a fun day out. 


If you'd like to find out more about Antigua, or to make a holiday enquiry, give me a call on 01 431 9700 or fill out the form below.