The enthralling melody of islands in the Caribbean each sing to the tune of their own song, yet each enchant with their dazzling diversity, sun-bleached beaches, hip-swinging reggae rhythms, and cornucopia of coral reefs. No two islands are the same, so we beckon you to explore and discover this tropical wonder of a region for yourself.

Saint Lucia
Let Her Inspire You

Leave the traffic, train delays and bustling crowds far behind and head to Saint Lucia, an inspiring island oasis, full of lush rainforests, majestic mountains, vibrant tropical flowers and relaxing retreats.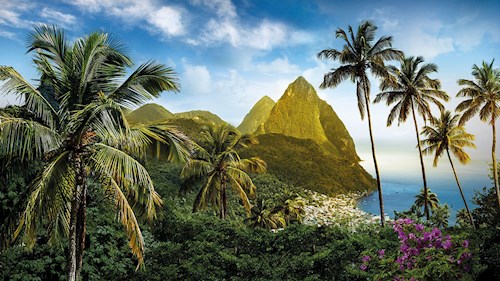 The mango-shaped Caribbean island of Saint Lucia is a natural wonder, with over 19,000 acres of untouched verdant landscapes, covered in giant ferns, wild orchids, bamboo and sun-kissed rainforest canopies. Glistening waterfalls are scattered within the dense forest, just waiting to be discovered by passers-by in need of a refreshing shower.

Take a scenic walk with a guide through the winding forest pathways. Let your senses be awakened by the fragrant smells of frangipani, eucalyptus and citrus fruit, and the sound of sweet birdsong. The strikingly beautiful and elusive Saint Lucia Parrot came close to extinction, but numbers are now on the up. The parrots can only be found in the island's rainforests, and seeing one is a rare and special treat.

The jaw-dropping views from the top of the Grand Piton mountain is another unique experience. If you can manage the four-hour climb, you will be rewarded with panoramic views that stretch from north to south, and on a clear day you may even catch a glimpse of Martinique or St. Vincent.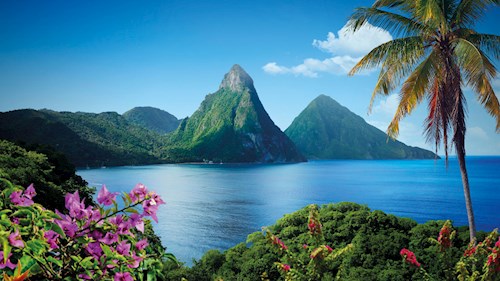 If you want magnificent views of the iconic mountains from the comfort of your room, then the three-walled sanctuaries at the award-winning Jade Mountain are the perfect spot. The resort is in the Marine National Park and has some of the best snorkelling and diving on the island, so you can also discover Saint Lucia's natural world under water.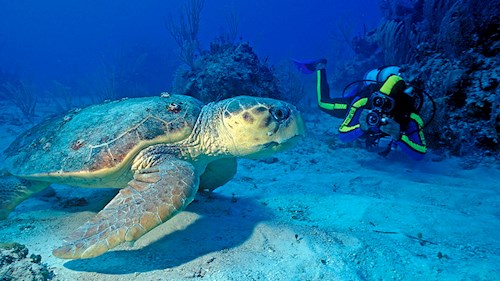 For those that just want to enjoy the relaxing properties of the tropical surroundings, you'll love the carefully-crafted gardens at East Winds and the tranquillity of the Pigeon Island National Landmark, which is just a stone's throw away from The Landings Resort & Spa by Elegant Hotels. The BodyHoliday is the place for rejuvenation, with a selection of tropical treatments that will make you feel totally at one with nature.

Anse Chastanet, Saint Lucia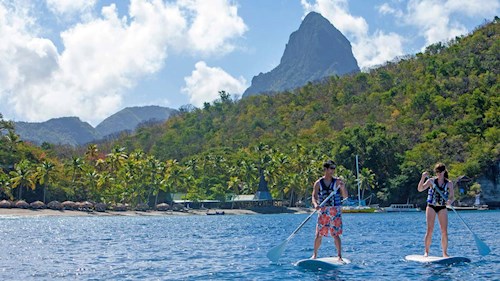 The emphasis at this environmentally-conscious resort is on enjoying the breathtaking surroundings, with no televisions to disturb the peace, and the natural melody of the rainforest to lull you into tranquillity. Architect owner Nick Troubetzkoy is fiercely passionate about nature and his vision can be seen throughout the whole resort. A birdwatcher's paradise, there are species of bird here that are found nowhere else on earth, and below the water's surface lurks yet more of Saint Lucia's wildlife in the form of coral reefs and a dizzying array of tropical fish in one of the best diving spots in the Caribbean.

7 nights from €2,059 per person sharing a Garden View Room including breakfast.
OFFER: Stay 5 Pay 4

TAKE ME THERE >


Windjammer Landing Villa Beach Resort, Saint Lucia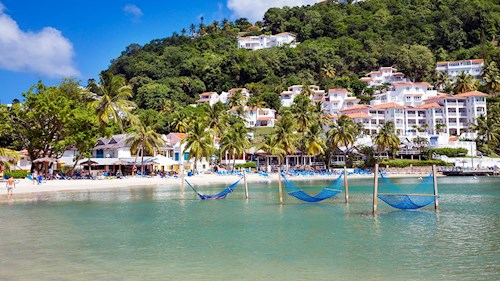 Spilling down a lush hillside on the crescent of a sandy beach, Windjammer Landing is an all-villa and suite resort that's just perfect for an action-packed family getaway. Families can keep their independence with villas and private pools, but still delight in all the luxury facilities of the resort, offering the best of both worlds. Complimentary watersports include windsurfing, snorkelling and kayaking, but you could be forgiven for simply lounging in one of the hammocks that are slung over the ocean. Why not get out and explore the island too? Go on a jeep or sailboat tour, zipline through the rainforest or go dolphin and whale watching.

7 nights from €1,819 per person sharing an Ocean View Guest Room on Room Only.
OFFER: Save 25% + $50 resort credit per adult

TAKE ME THERE >


East Winds, Saint Lucia




The cottage-style accommodations at East Winds are tucked away into 12 acres of tropical gardens, with flowering plants, shrubs and trees frequented by colourful birds in a tranquil environment that allows you to truly switch off and unwind. You'll feel truly spoilt from the moment you arrive, with a complimentary bottle of Champagne and chocolates to indulge in which will whet your appetite for the exquisite four-course dining menus.

7 nights from €2,599 per person sharing a Superior Cottage on All-Inclusive.
OFFER: Save 25%

TAKE ME THERE >


Bequia Beach Hotel, St. Vincent & The Grenadines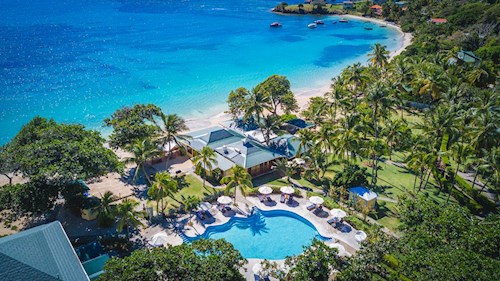 Bequia is one of the lesser developed Grenadines islands and life here is much the same as it was in decades past. It's here that you'll find the boutique Bequia Beach hotel, set over 10 acres of grounds resplendent with palm and almond trees. Laid back like the island itself, this is a luxurious and stylish enclave that will allow you to truly slip into the pace of island life. Kicking back at beachfront restaurant, Bagatelle's, with a rum cocktail and grilled catch of the day for a leisurely lunch is a favourite pastime among guests here.

7 nights from €1,889 per person sharing a Junior Plantation Suite including breakfast.
OFFER: Save 15%

TAKE ME THERE >


Cotton House, Mustique, St. Vincent & The Grenadines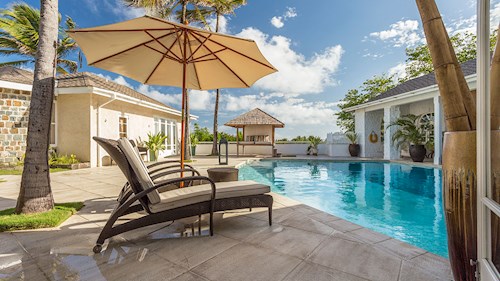 The island of Mustique was once the secluded home-away- from-home of Princess Margaret, and, in its history, has attracted a flurry of rock stars including the likes of David Bowie and Mick Jagger. Beyond this veil of glamour, however, lies an oasis of untouched beauty where many roads remain unpaved. Cotton House is the only hotel on Mustique, and locals and visitors alike gather here on Tuesday evenings for Champagne parties. There are just 15 rooms, a fabulous spa, and beautiful drinking and dining spaces.

7 nights from €2,749 per person sharing a Garden Cottage including breakfast.
OFFER: Stay 7 Pay 5 + complimentary transfers

TAKE ME THERE >
If you'd like to find out more, give one of our expert travel advisers a call on 01 431 9700 or fill out the form below.